Telephone And Internet Services In The UK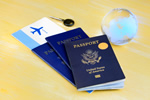 Telephone And Internet Services In The UK
As in all other first-world countries, communications systems in the UK including internet and mobile/fixed-line phone services are up-to-date and efficient. Digital optical fibre communications trunks are the norm in almost all of the British Isles except remote, thinly populated areas and WiFi networks are common in all major cities due to extensive satellite links.
British Telecom (BT) and Virgin Media are the main providers of fixed residential phone lines, with a variety of companies including Cellnet, Vodaphone, Orange and T-Mobile offering mobile phone services. All four companies now offer 3G services with improved bandwidths, with Orange offering the most coverage across the UK.
Reliable internet access is available via broadband DSL, wireless, cable and, mainly in rural areas, narrow-band dial-up, with an average speed of 4.6MBit/s.
BT is the leading provider, linking its products to its telephone services, with Virgin Media a close second. As regards reliability and customer service, Virgin Media has a slight edge over BT, although neither supplier is perfect.
The DSL lines offered by internet service providers are mostly owned and operated by BT's wholesale division, which has 5,591 exchanges of which only a few serving rural communities are not enabled for ADSL. Almost 100 per cent of UK businesses and households are now served by BT's super-fast ADSL Max or Max Premium, introduced in 2006.
Recent developments in the field include TalkTalk and Orange's offers of free broadband included in their telephone package, with other smaller providers quickly following suit. Sky topped the market by introducing 2 MBit/s broadband free to its customers, including a higher speed connection at a low price, beating most if its rivals.
Virgin Media announced in 2011 their 100Mb service would cover all their 13 million customers' homes by late 2012 and a new arrival, Hyperoptic, launched a 1GBit/s FTTH service in the capital. Since 2005, Northern Ireland has enjoyed 100 per cent broadband coverage due to its government partnership with BT.
Given the competition in the UK communications sector, the major providers regularly offer deals on their products, either combined or stand-alone. If you're planning an installation, the best way to access the latest offers is by visiting online comparison sites such as http://www.uswitch.com/broadband/compare/, or one of the UK's favourite websites, http://www.moneysavingexpert.com/.
Service comparisons as well as links to offers should be checked, as the cheapest may not necessarily be the best for strong, reliable connections, low downtimes or good customer service.