Expat Communities In The UK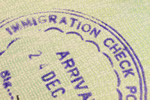 Expat Communities In The UK
Adjusting to a different lifestyle, especially if you're not a native English speaker, can be a stressful experience, with many incomers to the UK happier to settle in an area already home to migrants from their country of origin. Mass migration to the UK began in earnest after WWII and has accelerated beyond belief since the formation of the European Union, with expat communities from all five continents scattered all over the country.
If you're searching for a 'home away from home' in the UK, several points should be noted. First, many in your community may not be here for the rest of their lives, so you will need to be active in the community to keep a circle of supportive friends. Secondly, linking up with established networking groups is the best way to find like-minded souls, either in a church, professional or student setting.
Overseas students have the best chance of finding friends from their own country due to the large number of foreign young people arriving to study in the UK and spreading across the entire country in university and college towns. For families with children emigrating to the UK for work or other reasons, supporting your children's schools provides a good chance to integrate into your expat community, with many UK schools located in individual expat areas.
Certainly, living within your own ethnic group makes it easier to shop for known foods, clothes and to join in with events you enjoyed in your home country.
For example, London is home to expat communities from Germany, the USA, Italy, France, India and Pakistan, Russia, the USA, Spain and Canada.
The Polish community has grown enormously since the EU was born, with workers arriving to fill skills shortages across the UK; the Australian community was born just after WWII; workers from the Caribbean islands and Jamaica have been here since the 1950s and many arrivals from Muslim countries have settled in East London boroughs.
Similar, mostly smaller communities of migrants from across the world exist in all of the UK's large cities, with the Thai community the largest outside Thailand. Most of the expat enclaves in the UK are loosely formed within a specific area, the UK's Chinatowns are well-known and Somali communities are found in London and most other large cities including Birmingham and Manchester. Many established Indian communities are now entering their third generation and number over two million in total.