Cost Of Living In The UK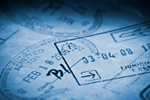 Cost Of Living In The UK
As of January 2012, it has to be admitted the UK's cost of living index, already one of the highest in the world, is still creeping slowly upwards, fuelled by increases in food, fuel, gas and electricity and transportation costs. However, due to competition between high street names and the opening of mega-malls outside major cities, the cost of clothing, household goods and electrical goods has fallen sharply during the last two years.
Your overall cost of living will largely depend on your location, with London the most expensive city by far. If your college or job is in London, East London and South London rentals are cheaper than West and North London, and you should allow at least ?800 per month for basic single-person accommodation of a reasonable standard, with a flat-share at around ?400. The centre of London will be out of reach for most migrants for its stratospheric rents.
In other UK cities, location is the key to rental prices, with city centres, fashionable areas and charming villages within easy travelling distance of town the dearest. In general, rental cost in large cities such as Leeds, Manchester and Birmingham are similar to those in London, although overall rents in the north of England as well as in Scotland, Northern Ireland and Wales are less than those in the south.
Food is also expensive here, in spite of a good choice of basic-level supermarkets such as Aldi and Tesco. Outdoor markets are found in many places, including London and are cheaper for fruit and vegetables. Self-catering on a weekly basis for a single person should cost between ?60 and ?80, with a meal out in a small local restaurant or pub costing between ?6 and ?8.
Unless you are in a flat- or house-sharing situation, utility bills including gas and electricity will comprise a large slice of your budget, as prices in the UK are much higher than in the rest of Europe. Council tax, a local administration charge, is variable borough to borough, but is never cheap. As a general rule, a single person will need an income of around ?15,000 a year after tax to live, with couples with two children needing ?38,000 or more.
Transport in the UK varies in price, with buses the cheapest and travel by overground train between cities the most expensive, especially for journeys from the satellite towns around London to its central districts. Fares on most rail routes rise annually by more than the cost of living index. The London Underground pre-paid Oyster Card makes travelling from end to end of the mega-city more affordable.