Sales And Marketing Jobs In The UK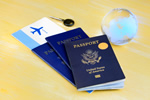 Sales And Marketing Jobs In The UK
Sales and marketing jobs in the UK are easy to find for migrants from other European Union countries, given the freedom of movement between member states which allows stays of an indefinite period of time in the UK and the ability to work without a specific permit. For migrants from non-EU countries, it may be more difficult, as most lower-tier sales jobs are regarded as non-skilled for immigration purposes.
For those entitled to stay and work in the UK without a visa, there are still many opportunities in both fields, although in basic sales jobs, salaries tend towards the lower end of the scale. Management positions in both the sales and marketing sectors, however, may be regarded as skilled work and command higher salaries, especially in London and other large UK cities.
During 2011, research into the UK labour market revealed the government's cap on non-EU skilled workers had been rendered ineffective as a barrier to the number of arriving economic migrants as companies had been recruiting staff from other EU countries. Many school leavers in the UK are not able to satisfy employers' needs as regards numeracy, literacy and communications skills, leaving the field wide open for EU citizens with a good command of English.
A positive attitude plus previous experience and good customer service skills are most employers' requirements for sales staff, with an educational qualification in English and mathematics helpful. Jobs are mostly available in large towns and cities, and better paid in London as a rule, although long work hours on a shift basis may be required on the large out-of-town shopping malls.
Offers of high-level managerial sales and marketing positions may be available to non-EU nationals wishing to migrate to the UK under the Tier 2 skilled worker category. To comply, a job offer must be made, and will depend on previous experience, formal qualifications such as a degree in marketing or a related subject and a thorough knowledge of English.
However, due to the high number of redundancies in the UK public sector as a result of the recession, many qualified UK workers are searching for jobs outside their own field. Potential migrants both from EU and non-EU countries should ensure their qualifications are up to standard in order to beat the competition.