IT And Internet Jobs In The UK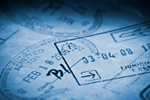 IT And Internet Jobs In The UK
Although the UK is hardly California in its scope of IT and internet jobs, skilled workers across the board in the sector now see plenty of choice, whatever their experience in this booming field. Literally every employment sector, from academia to commercial businesses, relies on IT specialists for everything from advertising through accountancy to sales and promotion websites.
Migrants from EU member states can legally stay and work in the UK's IT and internet industry at every level from managerial to entry-level posts, with positions available all over the country and wages at a reasonable rate. For those from non-EU countries, a job offer and sponsorship from the employer plus a minimum wage guarantee will be necessary for entry to the UK.
Positions available include project and programme managers, IT directors, security/risk/audit and systems integration professionals, web, Java and software developers, database administrators, IT and web infrastructure managers, SAP consultants and C developers. Online employment and recruitment sites are the best option for finding a suitable position in the commercial environment.
The option of a research job at a UK university or further education college may be of interest to IT professionals, with several universities running programmes of research into various IT fields such as apps for study usage on mobile phones and iPads and other 'mobile university' projects. Honours degrees and proven research and programming skills are required for jobs in this sector.
Given the chronic lack of IT teachers in the UK education system and the government's plans to replace the GCSE ICT curriculum in late 2012 with more rigorously taught and focused computer science and programming modules, qualified IT professionals with excellent English may be able to enter the UK as teachers in schools and technical colleges.
For the majority of jobs in the sector, formal qualifications including a degree and previous experience confirmed by references are essential tools in this highly competitive industry. Salaries are highest in London and the Home Counties, ranging from ?25,000 to an average of ?40,000, with managerial and development posts paying more. In the provinces, expect slightly lower pay for similar jobs.
Online recruitment agencies specialising in UK IT and internet jobs are usually the first step in finding a suitable position although, for potential migrants from outside the EU, check regularly with the UK Border Agency website for changes in the points-based entry requirements as more changes are expected during 2012.