Health Risks And Vaccinations In The UK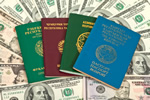 Health Risks And Vaccinations In The UK
Generally speaking, the UK is a safe country as regards infections, viruses and other illnesses, due to its first-world status, temperate climate and lack of threatening species of flora and fauna. Epidemics, even of old enemies such as measles and mumps, are rare in 21st century Britain, although the winter influenza bug can prove unpleasant for the very old, the very young or those with breathing problems such as asthma.
Almost all of the health risks encountered in warmer and less developed destinations are absent in the UK, although the occasional summer heatwave does require frequent applications of sun cream and possibly the wearing of a hat to prevent sunstroke. Winters in Britain are rarely cold enough for long enough to pose a risk.
The UK's snake population is small and scattered, with only one, the adder, a poisonous species occasionally found in heathlands and moors. Its venom is not fatal, although it is painful. Ticks are not a problem, with the exception of the New Forest area, where they carry Lyme's Disease, which can be fatal if left untreated. On the stunning west coast of Scotland, the midges are more famous than the magnificent views, with insect repellent a must.
The UK is rabies-free, due to its stringent quarantine regulations over many years, and street dogs are unheard of. No specific vaccinations are recommended for incomers to the country, although the updating of tetanus jabs is a sensible precaution. HIV/AIDS is present, with unprotected casual sex not recommended.
The UK's crime level resembles that of most mega-cities in the first world – good in most parts and bad in a few others. Terrorist attacks have occurred but are rare, with most people on the streets more at risk from drunk and disorderly teenagers on a Saturday night out. Violent crime is mostly restricted to poorer areas of large cities late at night, with the 2011 street riots an unprecedented occurrence.
All over the UK, the water is safe to drink and incomers should have few problems with bad food, as hygiene standards in restaurants are strictly enforced. Roads in the UK are considered relatively safe and driving standards are generally high. Around the coastline, the sea is safe to swim in, although chilly, with a few shark sightings off the Cornish coast proving no threat, and occasional swarms of jellyfish in autumn along the south coast beaches causing minor discomfort but no fatalities.