Student Cities In The UK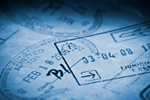 Student Cities In The UK
All the UK's main cities offer educational establishments at all levels from university to technical colleges, catering for most overseas students' requirements. Student accommodation is easily found, although the cost of living and room rents have soared in recent years, forcing many students into part-time jobs well below their capabilities. There's more to consider apart from the required courses, such as transportation from your lodgings to language school, college or university and activities outside study hours.
London has a massive choice of course providers, from famous London University to technical colleges and a plethora of language schools, although accommodation costs are the highest in the country. Students arrive here from all over the world, ensuring a good social life in and out of study times and there are plenty of relatively inexpensive eateries outside the centre of the city. Transport, however, is expensive.
Brighton, on England's south coast, is as multicultural as you will get and has the added bonus of a beach and reasonable weather. Bohemian chic invades even the university and technical colleges, and studying here is laid-back and fun, with plenty to do outside class. Obviously, it's not a cheap town in which to live, but comfortable student accommodation is easy to find, often on a shared basis to reduce costs.
Glasgow is a favourite student city for its bars, clubs, live music and other popular offerings, with a good education thrown in. The West End of this gritty Scottish city is where most lodgings are found, including hostels and even homestays, and it's one of the cheapest places in the UK in which to study.
Liverpool, set on the mouth of the River Mersey and once famous for its dockyards and port, is an exciting city for students from all corners of the world. If you're prepared to avoid the hot areas around Albert Docks and the city centre, reasonably priced accommodation is easily found, and students here are spoilt for choice as regards after-class fun and games as well as cultural spots such as the Tate Art Gallery.
Cambridge is an ancient university set mainly in historic buildings and is famed the world-over for its superb educational achievements. If you're lucky enough to study here, you'll have the world at your feet as well as views of English history all around. It's not the cheapest place to study by far, but one of the most rewarding.
Nottingham is set in the heart of England, the Midlands, close to beautiful countryside and home to two popular universities and a number of other educational institutions. Very affordable in all sectors, it's set up to cater for student needs in a friendly, helpful fashion and is compact, vibrant and cosmopolitan.