Immigration UK - Emigrate To The UK - Information About Emigration UK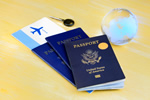 Immigration UK - Emigrate To The UK - Information About Emigration UK
Social reasons: The UK is a multicultural society, highly tolerant of all lifestyles and has a low crime rate.
Employment Factors: The UK has a low unemployment rate of under 5% and a high job turnover rate creating opportunities, a typical working week of 35 hours, generous leave allowances, statutory maternity and paternity benefits, 12 public holidays per annum and good rates of wages and salaries.
Economic Criteria: UK is the 4
th
largest economy in the world that is not prone to wild fluctuations in performance. It has a strong economy with a low inflation figure of 3% - the world's most even distribution of wealth and surprisingly low taxes. With these factors combined alone, the UK is a very attractive destination for skilled workers.
Cultural Wants: Cultural and historical activities and sites galore plus the bonus of cheap and easy international travel costs.
Education: The UK can offer sophisticated, world-leading education facilities including world famous universities, free state schools attended by over 90% of school-aged children with the remaining 10% attending private sector schools.
Healthcare: The UK has a world-class free healthcare system available to all without discrimination.
Welfare: The UK has a large welfare system to help you out if one of life's disasters befalls you or your Family.
Is it any wonder the UK is a favorite destination for both tourists, and, in particular immigrants, seeking a life of virtual freedom as opposed to their own native, struggling economic and autocratic or dictatorship societies where many are socially and economically disadvantaged.