Cost Of Local Travel In Australia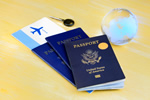 Cost Of Local Travel In Australia
Australia is one of the largest countries in the world by land space, so travelling around the country not only takes a fair amount of time, but also a fair amount of money too. There are plenty of ways to get around the cities, towns, states and entire country, including trains, planes, and motor vehicles. Accommodation options should also be considered when organising travel budgets.
Travel
This is the most common way for tourists to travel between and within states due to the sheer size of the country and lack of high-speed rail systems. Today, there are several major airlines operating flights between Australian cities and towns. Qantas is the largest and most established airline in the country, but Virgin Airlines and Jetstar have certainly grown in importance over the last decade.
Flights between major cities are quite expensive, even the supposedly budget airlines like Jetstar and Virgin. Some of the most popular domestic, interstate flights available are the routes of Sydney – Melbourne, Sydney – Brisbane, Brisbane – Melbourne and the east coast – Perth. For flights between one and two hours, such as Brisbane – Sydney, will generally set travellers back about $250 – $400, while flights from east – west coast are around $500 - $600 return. Regional flights within states may operate of smaller airplanes, but returns will still be a few hundred dollars for a two hour flight.
Train travel is available, but can be a little on the expensive side if travelling by sleeper trains. An Indian Pacific train ticket for adults travelling between Sydney and Adelaide is over $600. Trains are usually overshadowed by the extensive bus network operating within the country. There are large coach and bus companies, like Greyhound, that have multiple-use tickets. This allows travellers to save money if venturing more than once by bus. A 10-hour journey by bus will cost between $90 and $100.
If travelling alone, then renting a car is not great value. This is because with petrol costs and rental fees, buses are much cheaper and more convenient. Nevertheless, with three or four travellers, car rental is a better option. Cars are available from about $25 per day when booking over a week. Throw in petrol prices of several hundred dollars for the week when budgeting for a holiday.
Accommodation
Travellers wanting to find cheap places to stay can always opt for a hostel or travel dorm. These are found in major cities and towns, and range in price from $25 to $40 per night. Don't expect too much with rooms when paying minimum prices. Bed and breakfasts and motels generally go for around $70 – $100 per night, and offer greater comforts and amenities. Hotels are more expensive again, with basic rooms in downtown areas of cities costing about $150 a night.
If travellers really want to save money on accommodation, then camping is the best bet. From $10 per night, there is no cheaper option. Of course, bringing your own equipment is cheaper than hiring. There aren't as many campsites found in Australia as there were two decades ago, but travellers should be able to find some. You can't simply camp anywhere, so find a camping ground to avoid being hassled by authorities.