Cost Of Living In Australia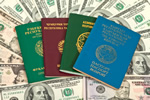 Cost Of Living In Australia
Right now, Australia is experiencing a housing bubble, which is seeing the demand for properties in the rental and buyers markets. As a result, housing prices throughout Australia's major cities are continuing to increase gradually. Rental properties have also increased over the last few years. However, it is possible to understand the costs involved in purchasing and renting property in Australia.
Renting
People who move to Australia rent property for one of three reasons. They don't plan to purchase a house or apartment for the duration of their temporary but long stay, they have purchased property off-plan and are waiting for the construction to be completed, or they simply can't afford the mortgage payments. Renting is much easier though than purchasing property.
The costs involved in renting are relatively diverse, depending on the city, area, proximity to transportation, size of the property and even age. Apartments in the centre of cities like Brisbane, Sydney and Melbourne will cost much more than apartment style complexes away from the city centre.
Apartment properties generally range between $250 per week, through to $1000 per week. Of course, the cheaper prices listed above are for the smaller, studio – one bedroom type apartments, outside the centre of major cities. The higher end prices are for those apartments in the centre of cities like Sydney and Melbourne. Prices for three-bedroom inner-city flats can exceed $4000 per month.
Houses in the outer suburbs of cities fall between $500 a week, to around $1200 per week. Three bedroom and four bedroom houses with large yards and entertainment areas are usually over the $1000 per week mark. Remember, a one-month deposit is generally required before moving in, and some realtors charge a week's or a fortnight's rent for setting up fees.
Purchasing
Purchasing property in Australia is more expensive than renting, but the seller's property market that usually hangs around makes buying property a sound investment. It is hard to generalise property costs seeing there are many different styles and prices available. However, on average, cities in Australia held among the highest property prices in the world.
Within Australia's largest cities, the median price for a three bedroom house is between $330,000 (in Hobart) and $500,000 (in Canberra). The average house in Australia tends to have a low-set, three-bedroom, two-bathroom design, with a moderately spacious yard.
Even though these are just average prices, homeowners should be looking at spending about $600 – 700 per week on a median house mortgage, not to mention an extra $100 per week on maintenance and utilities. Compare this with renting, and buying a property can turn out to be almost double the costs.
Again, the prices found throughout Australia depend on the location, size and age of the property. Older houses can greater value than newer houses, simply because of the sheer sizes. A two bedroom unit can go from $250,000 in the outskirts of a city, or cost upwards of $1.5 million in the heart of downtown.