Buying Property In Australia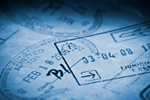 Buying Property In Australia
Residents have two choices when it comes to property in Australia. They can either rent or buy. Dissimilar to other western countries, Australia has a 70 percent homeowner population, which means buying property for residential or investment purposes is far more common than renting. For emigrants, owning their own Australian home is a dream that can very easily become a reality.
Everybody can buy property in Australia, but for some, it may be a more difficult task than others. It is not surprising that Australian citizens and permanent residents are able to buy as much property as they wish. However, temporary residents must seek approval from the Foreign Investment Review Board before purchasing property legally. The only other way temporary residents can buy property is by purchasing off-plan, before the development has been built.
The first step to owning a house in Australia is to find the perfect property. This can be done in a number of effective ways. Searching the internet for property sites like www.realestate.com.au and www.real-estate-australia.com.au provides a fantastic base for finding realtors, property and housing types that suit. In addition, directly contacting real estate and property companies like LJ Hooker, Domain, Re/Max and First National, is ideal for convenience and reliability.
Buying a house in Australia is done through real estate agents or by auctions. When it comes to dealing with realtors on property, there is a process in place that is usually followed. Negotiations on the offer are made between the real estate agent and the prospective buyer. If these are accepted, then on most occasions, a deposit will be paid to prove the seriousness of the buyer. This deposit is refunded if the deal falls through at this stage.
If the property deal goes through, the next step is the legal requirements, including contracts. Most states within Australia have a five day cooling off period after the contracts are signed, allowing the buyer to 'change their mind and cancel'. If cancellations are made before the cooling off period ends, most of the deposit will be refunded. After one to three months of signing the contract, the settlement date occurs, which is when the buyer has legally become the owner of the property.
Auctions are somewhat different, and much less tiresome. A 10 percent deposit must be handed to the seller at the auction, or the bid becomes void. The contract is also completed at the auction site immediately following the auction too. In addition, there is no 'cooling off period' after signing the contract at auctions.
There are so many different types of home loans available to the general public. A safe and secure way to find the best home loan is by visiting a mortgage broker, such as Mortgage Choice and Aussie Home Loans. These institutions are designed to find the most appropriate home loan for individuals, and generally scan from hundreds of financial institutions.