Shipping To Australia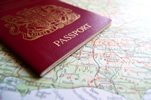 Shipping To Australia
The majority of migrants heading to Australia will have quite a lot of personal possessions which they will not want to leave behind and, therefore, need to find suitable means of transportation for them. The actual amount of possessions can vary greatly depending upon the size of family and possibly how sentimental someone is. Some may just have a small amount of important possessions and may require only a few cartons, or 'tea chests', while others may need a 40-foot shipping container to fit everything in.
It is important to be well organised if shipping valuables overseas as you don't want important items, such as family photographs, being water damaged or even lost.
There are two ways of shipping goods: by air or by sea. Of course, transporting them by air is only an option worth considering if there is just a small amount of possessions (maybe less than a carton) as the price of shipping by air can be very expensive. It is also extremely important to make sure that any important documents are carried with you as they may be needed upon arrival in Australia.
Most emigrants to Australia tend to choose overseas shipping containers for transporting their goods because, although it takes longer, it is without doubt more economically viable. Before ordering the containers it is important to consider the size which is likely to be needed. A family of two adults and two children can normally expect to fit their household possessions into a 20-foot shipping container. However, if you have a large amount of possessions, it may be a 40-foot container which is needed.
Shipping possessions to Australia is, unsurprisingly, not always the quickest of operations. It generally takes between five and seven weeks to get to Australia and then possibly another two for them to clear customs. So emigrants should expect anything up to nine weeks for the whole process to be carried out. To avoid any further delays, give any relative documentation to the shipping company prior to the estimated arrival date. If possible, try to arrange the shipment during off seasons and stay clear of holidays as it could result in large storage bills in Australia.
Shipping door-to-door is the most convenient and hassle-free way of transporting possessions as that way emigrants can arrive in the country without any unwanted added stress. The benefit of only having to deal with the one company should not be underestimated during the emigration process. Door-to-door will see the company pack your shipment at your home, remove it, load it onto the ship, unload it at the destination port and deliver it to your house. They will also unload it and unpack it at your new home in Australia. It is worth noting that the majority of companies do not include port fees at the destination in their price code because of the Australian Port Authorities' unpredictable nature. It is a good idea to get a list of port fees before shipping to Australia.
Shipping door-to-port is another option, although it is generally not recommended to individuals and families. The accumulative price will end up higher as the cost of transporting possessions from the port to your door will be higher. Port-to-port shipping falls into the same category as it simply means having to make many more arrangements and pay higher bills. Finally, shipping port-to-door can be a good option if you have already packed all your possessions yourself and are able to drop them at a warehouse of the shipping company you have chosen. This eliminates the cost of the company picking up the goods from your house.