Customs Clearance In Australia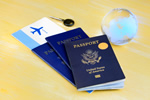 Customs Clearance In Australia
Everyone arriving at an Australian airport needs to present their Incoming Passenger Card (IPC) and travel documents to officers at immigration clearance. Those who are not citizens of Australia must ensure they have obtained authority or the valid visa to enter the country. Anyone without authority or a valid visa or travel document to enter the country could be delayed until all the necessary checks have been carried out. If a person fails to meet the requirements to pass immigration clearance, they are likely to be refused entry to the country. After passing immigration clearance, your bags can be collected. They may have also been checked by Customs and Border Protection or Quarantine officers.
The role of the immigration department at the airports is to facilitate the arrival of legitimate travellers as efficiently as possible while, at the same time, maintaining the integrity and protecting Australia's borders. Part of this facilitation process is ensuring travellers are lawfully passed through immigration clearance. Officers from the Australian Customs and Border Protection Service handle all immigration clearance at airports around Australia on the department's behalf. As part of the process of immigration clearance, officers will examine your authority to enter Australia and your travel documents.
Once your authority and documents to enter the country have been checked and any other details required have been provided, the clearance officer will formerly clear you to enter Australia. If there are any other issues surrounding your authority to enter the country or your identity, the matter will be referred to the airport's immigration staff to be resolved. Immigration officers may make enquiries about your intentions in Australia, contacts you have in the country, travel history or any other relevant information.
In certain cases, a formal interview may need to be held to ascertain further details about your immigration status. This interview will be conducted in the airport's immigration offices by immigration staff. Those who do not speak English may have to wait for a translator to ensure the interview can be carried. If a person fails to meet the clearance requirements of Australian immigration, they are likely to be refused entry and ordered to leave the country.
The government of Australia has implanted more rigorous security checks at airports in order to ensure the safety of all individuals residing in the country. It is worthwhile researching all the security checks which will be carried out at the airport upon your arrival to make sure you are adequately prepared.