Moving And Shipping In Australia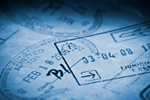 Moving And Shipping In Australia
Picking up one's life and relocating it to another country is never easy. There are so many things to consider when taking the plunge and moving Down Under. But the costs of relocating are certainly on the forefront of everyone's mind. Yes, moving countries, especially with a family, can be expensive. However, for most people who experience it, the benefits definitely outweigh the costs.
The visa process for the average emigrant will incur costs of several thousands of Australian dollars, including the required medicals, immigration fees and agency rates (if applicable). In addition to the visa, the physical process of moving to Australia can also cost a fair amount of cash. It is difficult to estimate, but the expenses involved in moving to the land down under stand at between $12,000 - $18,000 for a single emigrant, $20,000 - $24,000 for couples, and above $30,000 for families. However, this can be reduced significantly if required.
Flights
When it comes to flights, the costs involved always vary. They are primarily dependent on the number of people flying, the airline they fly with, when the flights are taken and from where they are originating from. On the whole, flights from outside the Asia region will be around $1,500 - $2,000 return (from Europe and North America). Emigrants could save money by purchasing one-way tickets, which will usually be less than $1,000. But, with a family of four or five, this is still quite an expensive undertaking. Return tickets from most places in Asia are around $1,000, but one-way tickets can be as low as $500 with some airlines.
Shipping
When relocating, the amount of shipping involved is simply incredible. Families are generally the most expensive movers, especially those who decide to move a large amount of their household items across the globe. Shipping costs depend on the size of the container and the location of the ship's origin. However, the average cost of shipment to Australia is between $5,000 and $10,000. If emigrants decide to take everything but the kitchen sink, it is best to ship the items using a 20-foot container. This is the most costly shipping container available. If emigrants decide to just take personal items, then the $5,000 - $10,000 fee mentioned above becomes non-existent. Purchasing insurance is strongly recommended. Don't forget that costs will surely arise from quarantine and customs inspections too; sometimes upwards of several hundreds of dollars.
Many emigrants decide to take pets over to Australia from their homes. This is certainly possible, but it is a timely and expensive procedure. To take a dog, flights and quarantine costs will be between $2,500 and $4,000. In addition to pets, shipping automobiles from overseas countries can fall anywhere between $1,500 and $3,500, depending on the port of origin. Stamp duty and GST also have to be paid upon the arrival of the car.