Visas To Enter Canada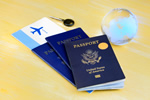 Visas To Enter Canada
Canada welcomes over 35 million visitors each year into the country on temporary non-immigrant visas. Many developed nations enjoy visa-exempt status, which means citizens with a passport from the UK, most European countries and some Asian nations can enter Canada for leisure with just a valid passport and stay for up to six months. A list of those countries can be seen here: http://www.canadavisa.com/canadian-immigration-visitor-visa-exemptions.html.
Other foreign nations who wish to stay in Canada a little longer for a specific purpose such as studying or temporary employment will need to apply for a Temporary Resident Visa (TRV). This is Canada's most common non-immigrant visa class, and is fairly straightforward if you have a legitimate purpose for staying in Canada. The government website for Canadian immigration has everything laid out step-by-step (http://www.cic.gc.ca/english/visit/apply-how.asp).
Business visitors who plan to come to Canada to conduct business but not engage themselves in the Canadian labour market do not need a special business visa. There are many other types of activity that Canada does not feel requires a work permit, such as volunteer work, entertainment and the like. Each year Canada lets in 150,000 temporary workers to help fill voids in the employment sector. The provinces of Alberta and Quebec have their own additional application process for temporary workers.
Foreign students are actively encouraged to come to Canada and study. Every year, over 90,000 are admitted into the country to go to school and university. Again, besides the federal level of visa application, the province where you plan to reside while in Canada may also have specific application processes.
For those who wish to permanently emigrate to Canada, there are several ways to go about it. The most common path to permanent residency is through employment. Canada has several different visa programs geared to encourage skilled and experienced people in a variety of in-demand work fields.
This list includes skilled experts who are hired by a Canadian company, entrepreneurs who wish to open their own business in Canada and even investors who simply want to put cash into a Canadian firm. All of these avenues can lead to Canadian citizenship if you are qualified.
Canada uses a point system similar to the UK and Australia to determine who is the most qualified to be granted a permanent residency visa. Naturally, Canada wants to attract emigrants who will contribute to the nation's growth, diversity and prosperity, so it isn't easy to get permanent residency. But if you have the right skills and experience, and can find a company willing to hire you, then it should be a straightforward path into the country on a permanent work visa.