Business And Long-stay Visas In Canada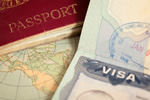 Business And Long-stay Visas In Canada
Canada's mix of natural beauty, friendly and safe society and decent work prospects make it one of the world's most attractive countries to emigrate to. There are a number of long-stay visas available to open the door to permanent residency and even citizenship, many of which involve business activities.
Canada has a special visa for temporary workers known as the Temporary Resident Visa (TRV). Every year around 150,000 skilled workers are granted this non-immigrant visa to come to Canada and work for a Canadian company for a specified length of time. Many of these jobs vary each year depending on job shortages and niche employment that needs to be filled. Live-in care givers are also in-demand jobs for this TRV class of visa.
There is a difference in the eyes of the Canadian government between people who come as a business visitor and those who come as a business person. A business visitor is someone who does not plan to engage in actual employment within the Canadian job market. They might visit to investigate business opportunities, conduct business transactions or simply have a meeting. This type of activity does not require a work permit and thus is fairly easy to get visa approval.
A business person plans to stay for a longer time and work within the Canadian system. Your potential Canadian employer will have to get an official opinion from the Human Resources and Social Development Canada (HRSDC) department to determine if the job you will fill is needed in the labour market. Without the approval of this government agency your boss cannot proceed with the TRV application.
In most cases, it is necessary to apply for the work permit outside of Canada. The applications and fees can all be reviewed at the government's website on immigration: http://www.cic.gc.ca/english/work/apply-how.asp. If you plan to work in Quebec or Alberta province there are additional applications that must be processed.
This common work permit style of visa is temporary, which means it is not normally a pathway to permanent residency. It is possible to extend to TRV, and if you want to stay permanently you simply need to qualify under the government's skilled worker immigrant scheme. Canada welcomes emigrants who possess skills and experience they deem needed. They use a points system that looks at your education, skills, experience, age and other factors to give you a score. If you reach 67 points you are eligible to apply for the skilled worker visa scheme.
Emigrants with money to spend can take advantage of the investor visa program, which requires you to prove a net worth of C$1.6 million and invest C$800,000 with a government investment program for five years. For this, you will be given a permanent residency visa. There are also entrepreneur visas that require only proof of a net worth of C$300,000 and a business plan to start your own company in Canada.