Canada's National Parks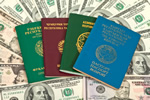 Canada's National Parks
With more than 40 protected areas to choose from, Canada offers visitors a fantastic range of national parks, wilderness areas and marine conservation areas. Also under the purview of the Parks Canada organisation are 159 National Historic Sites available to the public.
Canada's national park service is currently working on the goal of protecting at least one piece of each of its 39 distinctly different geographical regions. National parks in Canada are open to public use for both recreation and leisure, whether it's just a fun afternoon drive through the forest or an overnight backpacking trip.
The first national park created in Canada was Banff, established in 1885. This amazing area of the Canadian Rockies is arguably the most beautiful alpine region in the country and certainly among the top mountain areas in the world. The Icefields Parkway offers an easy way to drive through this magnificent scenery, connecting Jasper National Park to Lake Louise.
The province of Alberta is where Canada's most famous alpine parks are found, along with British Columbia just to the west where the coastal mountains drop right down to the Pacific Ocean in stunning parks like Pacific Rim National Park Reserve. If hiking, kayaking or mountain climbing is on the itinerary head to this region of Canada.
There are also some excellent wilderness areas in the eastern half of the country, especially north of Quebec. Much of this watery landscape is made up of lakes and rivers and is almost entirely unpopulated. Intrepid backpackers come to places like Forillon National Park and La Mauricie National Park to get away from civilisation for a few days and camp in pure wild isolation.
Ontario is another hot favourite with boaters and campers as it offers quick and easy access from the Toronto area. There are six national parks in this region, many of which are centred around the popular lake country area in the northern parts. Most of the national parks in Canada are set up for camping and little else.
There are a few lodges to stay at like the Chateau Fairmont at Lake Louise but for the most part you will be camping in one of the nicely maintained park camp grounds. These are cheap and safe places to camp, most of which have toilets and even shower facilities along with park rangers to help with any problems.
The Maritimes is another wonderful region of Canada to do some national park exploration. This is fairly remote country, so you often have the whole place to yourself in a park such as Cape Breton National Park in Nova Scotia. The mix of glacial landscape and rugged Atlantic Ocean scenery is unique to Canada. Newfoundland and Labrador also have amazing parks like Gros Morne and Terra Nova that are well worth the effort to reach.