Buying Property In Canada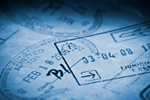 Buying Property In Canada
Canada has one of the world's most open real estate markets, allowing even non-residents to purchase property. You can use a Canadian home on a temporary basis as long as you stay within your current Canadian visa limits. This means that foreigners can own homes, apartments or condos with no strings attached, and when you want to stay permanently you simply need to arrange to become a permanent resident of Canada.
Non-residents can even use their property for rental purposes as long, as they file the required annual tax returns reporting the income from their rentals to the Canada Revenue Agency. Whatever kind of property you buy in Canada, you will pay a transfer tax within the province where the real estate is located. This is usually around 1 per cent of the first C$200,000 and 2 per cent on the remaining balance. Local municipalities also impose annual property taxes based on the value of the property.
If buying a brand new home, the property will be subject to the Canadian federal Goods and Services Tax (GST). This 5 per cent tax does not apply to homes that are being resold, and some new properties can qualify for rebates and tax breaks. Property used as a rental in Canada is subject to Canadian Income Tax equal to 25 per cent of the gross income from the rental each year.
You may also need an appraisal of the property and a current survey if you are going through a bank for the financing. A home inspection is another common cost involved with buying a house, especially an older one.
When you decide to sell property in Canada there are also taxes to be paid. Non-residents must pay 50 per cent of all capital gain from the sale as a withholding tax. Canadian residents do not have to pay tax on capital gains as long as the property was their primary residence. You are only allowed to claim one property as your primary residence, however.
Most buyers use a licensed real estate agent to show them properties and arrange the transfer of title during the purchase process. They earn a commission from the sale of the property that is negotiated between the agent and the seller. The commission percentage is between 3 and 7 per cent of the final sale price. Once you have found a property you wish to buy, your agent will draw up an agreement and you will put down a small deposit. Should you back out of the agreement after signing the preliminary contract the seller can keep your cash deposit.