Shipping Costs And Insurance To Canada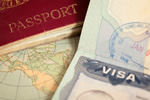 Shipping Costs And Insurance To Canada
Shipping the contents of an entire house from one country to another is an expensive and time consuming endeavor. The total cost largely depends on how far your home country's port of call is located from Canada. The quantity of goods you need to ship is the other major cost. Add to that the insurance covering your shipment and you should budget at least C$3,000 for the move.
Most people ship their goods by sea because it is vastly cheaper than by air. Shipping containers come in a standard 40-foot size, but if you don't need all that volume you can simply pay for the space you use in smaller sub-containers. Sea freight is charged by the cubic volume, meaning the weight of your goods is not an issue, only the space needed to ship them.
The only disadvantage to sea freight is that it takes a very long time. Depending on where it is being shipped from, it could take up to three months to arrive in Canada. Then the shipment must pass customs inspection and then be forwarded to your new home by truck. So you can plan to be without much of your household goods for the first few weeks after moving into your new home.
Shipping goods by air is extremely fast and very expensive. If you really have no household goods, then this is a better option. It may also be good to combine air and sea freight so that you can get some of your more necessary items right away and wait longer for bulky items like furniture.
Be sure and shop around with at least three different international moving companies to get a comparison of price quotes. If you know the size of shipping container you need and the final destination, it is easy to get a price quote. If insurance is not included in the shipping package cost, you should consider buying some. This is especially true for sea shipments because if the ship gets hit by heavy waves it's very possible that some breakage or water damage could occur inside your shipping container. Every international moving firm can offer insurance for this.
With major ports on both the Pacific and Atlantic coasts, shipping to Canada by sea is fairly straightforward. Be sure and choose a shipping company that is able to arrange the land transport as well as the sea transport, so that all the logistics are handled by a single company. Trying to coordinate two or more companies for the whole moving process is bound to encounter some problems along the way.