Clearing Customs Into Canada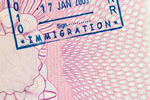 Clearing Customs Into Canada
If you are arriving in Canada for the first time with an immigrant visa and have all the required documents and paperwork in order there should be no problem with arrival process. Every person entering Canada as an immigrant must declare the contents of their belongings with the customs officers.
The Canada Customs department has strict rules regarding what can and cannot be brought into the country but if you follow the rules it should be an easy process getting through. Whether you are shipping household goods into Canada by an international shipping company or carrying them with you on the plane the procedure is essentially the same.
At the airport you must show two copies of a detailed list containing every household and personal item you are bringing into the country by plane. You also need to show two copies of a list detailing every item you will be shipping into Canada at a later date. Both lists need to show the estimated value of every item, and the lists should be detailed to the point of excess.
When a person or family is emigrating to Canada the customs officers expect them to be bringing a lot of stuff. If your list is too sparse it will set off alarm bells and lead to deeper scrutiny of your affairs – the one thing best to avoid with immigration and customs officers.
The customs officer at the airport will also ask to see proof of funds to cover your living expenses for a six-month period. This amount must include cash for rent, food, clothing, transportation and other incidentals which in Canada can average around C$2,000 per month. Official bank statements or cash will satisfy this requirement. If you are unable to show proof of funds the customs officials can delay your entry into the country.
If everything looks in order, the immigration officer will conduct a short interview covering the questions you filled out on the Immigrant Application Form. When approved, the officer will sign your Record of Landing, which is the confirmation of your new permanent residence.
Each of Canada's main airports at Toronto, Vancouver and Montreal have special immigrant reception areas run by organisations that are trained to help new emigrants get acquainted with their new life in Canada. They have useful printed literature, contact information and all the answers needed to get started.