Transfer Money To Canada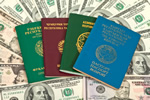 Transfer Money To Canada
There are several ways to transfer money to Canada, both from abroad and within the country. A bank wire transfer is the most common form of financial transaction, which sends an amount from one bank account to another. The two banks do not need to be the same bank, though you must be the account holder in at least one of them.
In an international bank wire transfer the money is sent from your account electronically into the receiver's account using the global SWIFT code process. It only takes a few minutes to complete the transfer in most cases, though the country of origin where the cash is coming from can delay the process. The sending bank will charge a transaction fee of some kind.
In Canada, domestic bank transfers are done using a process known as Large Value Transfer System (LVTS). Most Canadian banks are members of the Canadian Payment Association, which facilitates the transfer of money between Canadian banks. The fees for domestic wire transfers are usually much cheaper than those for international transfers.
Another popular and easy way to send cash to Canada is with a cash wire transfer. In this case, no bank is needed by either the receiver or the sender of the money. The entire process is anonymous and requires only some form of official identification by the person who is supposed to receive and pick up the cash.
Western Union is one of the global leaders in this field of wire transfers, as is MoneyGram. With thousands of offices around the world, a person need simply walk into a Western Union office in Mumbai, hand the cash to the agent along with the name of the receiver and the location in Canada where they can pick up the cash. There is a small fee to be paid to transfer the cash, but the entire process is incredibly simple and takes just a few minutes to complete.
Increasingly, people are turning to the internet to transfer money around the world. PayPal is one of the leaders in this digital money transfer network. While a bit more complicated than using Western Union, there is an added convenience using the internet to transfer money because you don't have to physically go to an office to send or receive the cash.
With PayPal you need to register and make an account. You will need to transfer cash into the PayPal system either by credit card or regular bank transfer. But once the money is in your PayPal account it can be kept there indefinitely and transferred to any other PayPal member any time of the day in just a few minutes.