Opening A Bank Account In Canada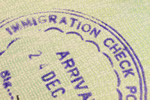 Opening A Bank Account In Canada
If you plan to stay in Canada on a permanent basis it is essential to have a bank account to help protect and manage your money. There are many advantages and benefits of having a Canadian bank account, and they are very easy to open if you are a Canadian permanent resident.
To open a bank account, you need two forms of official Canadian identification. A Canadian driver's license, Canadian passport, Permanent Resident Card, Social Security Card and provincial health insurance card are just some of the common forms of ID acceptable to open an account.
There are many conveniences you can get from having a bank account. ATMs are found all over the country, offering easy access to cash any time you need it. Increasingly, these ATM cards also serve as debit cards allowing you to make direct payments to a business from your bank account using the card. Bank cards can also be designed to act as credit cards under the Visa or MasterCard brands.
There are two main types of bank accounts used by most Canadians. A savings account is used to save your money for long-term plans. You can earn slightly better interest rates on a savings account, but still have unlimited access to the money whenever you need it.
A banking account is what people use for day-to-day transactions. The money in this account is similar to a checking account in some countries. You use it for withdrawals, money transfers, debit payments and the like. There are several other forms of banking accounts available for long-term investment that offer much better interest rates and yields if you leave the money in the account for a long period.
Canada has dozens of banks to choose from. There are a few nationwide banks such as Royal Bank of Canada, TD Canada Trust and Canadian Imperial Bank of Commerce. These major banks have a solid reputation and have branches all across Canada. There are also small town banks that deal mainly with one area. There is little difference between the two, if all you need the bank account for is paying bills and withdrawing cash from the ATM.
Larger banks are often better at offering long-term investment options, and usually have better international banking options and accessibility. But all banks in Canada are protected under the Canada Deposit Insurance Corporation (CDIC), which guarantees every depositor's cash savings up to C$60,000. This means that even if the bank goes bust the Canadian government will ensure you receive up to C$60,000 of your deposited money.