Getting On Your Feet In Canada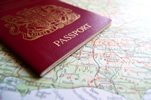 Getting On Your Feet In Canada
It can seem a bit bewildering at first when you move to a new country, but the same steps to adjusting apply in Canada as they do everywhere in the world. There is always more expense than you imagine or even plan for with a major relocation like emigration, so the first rule of thumb is to make sure you have more cash on hand than you think will be needed to get settled in your new home.
If you are moving to one of Canada's larger cities like Toronto, Montreal or Vancouver there will probably be a local community of people from your home country. This can be the greatest resource you'll find when getting on your feet in a new country. But even if there isn't a strong local ethnic community, Canada is a welcoming place to emigrate.
Finding a place to live is always the first step in getting settled in. It's almost impossible to arrange a rental home from abroad, so for the first few days or weeks you'll need a temporary place to live. Hotels can do this job but they are the most expensive option. Look instead for weekly hotel units or even a month-to-month rental, as this will save you loads of money and give you plenty of time to find the perfect place to live.
Setting up your new home in Canada is fairly straightforward as all the necessary services like phone, internet, cable TV and utilities are easy to arrange with your local provider. These monthly services don't require any deposit or up-front payment but you'll need to budget C$300 for the first two or three months to cover the bills.
If you have your own car, then you will need to get it registered with the local authorities right away. This involves getting your driving license changed to your new home address and updating the vehicle registration and insurance. You can't legally drive a car in Canada unless all this information is updated.
Putting your children in school is also a fairly easy task as long as you are arriving at the start of the new school year in August. Your children will attend their local public school, which is free, and the school will assist you with learning the schedules and required materials.
Finding a job is also a major step in getting settled in Canada. If you aren't arriving with employment secured, you'll need to get your resume updated with your new contact information and begin sending it out to prospective companies. The best way to look for work is either going online and using a job seeker website or contacting relevant companies directly through their human resources department.