Telephone And Internet In Canada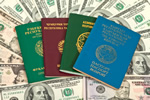 Telephone And Internet In Canada
Canada has a well-developed infrastructure for internet and telephone use. Customers have plenty of choice when it comes to choosing their service provider for mobile phones and the internet. From broadband to dial-up internet, disposable mobile phones or traditional landlines, Canada offers communication for every budget and need.
Canada uses a mix of mobile phone networks and traditional landlines to provide its phone service across the country. While the old landlines are slowly being replaced by mobile phones, they are still very common in the rural towns. Since most Canadian telecoms service comes bundled together as a package, it's virtually free to get a landline phone thrown in with your internet and television service.
There are more than 25 million Canadian subscribers to GSM mobile phone service and most of it is provided by just three companies. Rogers Wireless is currently the leader in customers, with more than 9 million users. Bell Mobility is a close second with more than 7 million subscribers followed by TELUS Mobility with roughly the same amount of business.
There are several kinds of mobile phone packages you can choose from in Canada. Most people sign a long-term contract with one of the top providers that gives them the lowest rates. These are the best deals if you do a lot of calling and plan to stay in the country for more than a year or two. Increasingly, the companies throw in a free or cheap mobile phone into the package.
It is also possible to buy disposable mobile phones in Canada that can be recharged with more credit. These have the most expensive rates to call and are only useful for people in town for a short period that don't want to commit to a long contract. Canada also has SIM card phones that are tied in to the smaller service providers.
Canada is ranked 20th in the world in terms of internet users, with more than 27 million registered users. Most internet service in Canada is broadband, though it's not among the world's fastest. This broadband DSL internet typically comes bundled in with the cable TV subscription through the same cable into your house. One company handles all of your communications needs and gives you just a single monthly bill to deal with.
Wireless internet is becoming more prevalent in Canadian cities, with several of the main mobile phone companies like Rogers and Fido providing internet access through its mobile network. Outside of the main urban areas, internet and mobile phone service becomes less reliable.