Welcome to the Emigration Destination Guide for emigrating to Venezuela here at emigrate.co.uk.
Emigrating to Venezuela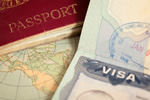 For extended stay in Venezuela, you can enter the country either as a business visitor or as an employee. If you are entering as a business visitor, you need to have a business visitor visa that is called TR-N or Transeunte Negocios. This is a general requirement for all business visitors, and you are only exempted if you come from a country...
Latest Venezuela Emigration News: