Welcome to the Emigration Destination Guide for emigrating to South Korea here at emigrate.co.uk.
Emigrating to South Korea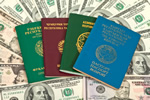 Each place in the world has its own charms that will attract people to immigrate there and South Korea has its fair share of this migration. So, if you want to relocate to this country, there are ways for you to do this. First, you have to know if you are a holder of a long term visa. If you are, you must secure an Alien Registration...
Latest South Korea Emigration News: