Emigrating to South Korea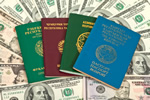 Emigrating to South Korea
Each place in the world has its own charms that will attract people to immigrate there and South Korea has its fair share of this migration. So, if you want to relocate to this country, there are ways for you to do this.
First, you have to know if you are a holder of a long term visa. If you are, you must secure an Alien Registration Certificate from the Immigration. Getting this certificate should be completed within 90 days from the day of your arrival in South Korea. Completion of this process usually takes 3 to 10 working days.
You can also apply for permanent residency in South Korea and you can do so while you are in the country or while you are still in the country of your origin. However, it will be easier for you if the process is completed before leaving for South Korea. For this you will need all the documents that you should have in getting a visa as well the exact address of your supposed residence in South Korea and a copy of your national ID card or permanent resident card.
Naturalisation in South Korea can also be done and it is increasing in popularity. However, this will not be easy for everyone. The easiest way for this is to marry a Korean citizen or to have at least one parent of Korean lineage. Among the most important requirements that you should have in applying to become a citizen in South Korea is that you must have lived in the country for at least five years and you are proficient in the Korean language.