Welcome to the Emigration Destination Guide for emigrating to Slovakia here at emigrate.co.uk.
Emigrating to Slovakia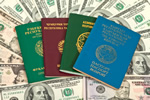 Gaining entry into Slovakia is quite simple as this will only need the same requirements that are normally asked for in any country. So, if you plan to immigrate to the country, then you must know first of the simple matters concerning your being able to enter it. Generally, foreign nationals who wish to visit Slovakia for whatever purpose...
Latest Slovakia Emigration News: