Emigrating to Slovakia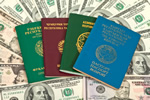 Emigrating to Slovakia
Gaining entry into Slovakia is quite simple as this will only need the same requirements that are normally asked for in any country. So, if you plan to immigrate to the country, then you must know first of the simple matters concerning your being able to enter it.
Generally, foreign nationals who wish to visit Slovakia for whatever purpose are required to have a visa. Because of this, it is highly recommended that you secure a visa before you enter the country. You can get your visa at the Slovak diplomatic representation in countries abroad. In most cases, you must have a passport that is valid for at least an additional three months from your intended departure.
If you wish to relocate to Slovakia and intend to work there, then there are certain legal obligations that you must comply with. The Law of Residency of Foreigners in the Slovak Republic stipulates several rulings in the issuance of residence permits in the country. There are short term and long term as well as permanent residency permits that can be obtained in Slovakia that depends on the activities you intend to do in the country and the length of your stay here.
If you intend to stay in the Slovak Republic for more than 90 days whether for employment, business, studies, medical treatment or family unification, then a long term residency permit should be applied for. You can file for this at the Slovak embassy or consulate in your residence country and this is usually valid for one year. This permit can be renewed though by the Foreign Police. You must remember that you can work or operate and own a business in Slovakia only if you have a long term residency permit. If your purpose for staying in Slovakia is family integration, then you could apply for a permanent residency permit. This is if you have a spouse or a child that is a Slovak citizen.