Welcome to the Emigration Destination Guide for emigrating to Saudi Arabia here at emigrate.co.uk.
Emigrating to Saudi Arabia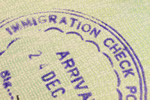 Any foreign national who wish to enter Saudi Arabia should be holders of valid visas except for those coming from Kuwait, Qatar, Bahrain, Oman and United Arab Emirates as well as those holding re-entry or landing permits. Those who hold Israeli passports or Israeli-stamped passports and those who do not comply with the conventions of the...
Latest Saudi Arabia Emigration News: