Emigrating to Saudi Arabia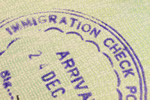 Emigrating to Saudi Arabia
Any foreign national who wish to enter Saudi Arabia should be holders of valid visas except for those coming from Kuwait, Qatar, Bahrain, Oman and United Arab Emirates as well as those holding re-entry or landing permits. Those who hold Israeli passports or Israeli-stamped passports and those who do not comply with the conventions of the country when it comes to code of dressing or behaviour are barred from entering Saudi Arabia.
All foreigners, except those from the Gulf States who intend to take up employment or reside permanently in Saudi Arabia should have a sponsor. The process for this starts with securing an employment permit that is to be acquired by a Saudi Arabian company, followed by the getting of a residence permit which should be included in the submission of the employment permit. For the visa processing, the needed requirements should be submitted to the Saudi consulate that has jurisdiction in the foreigner's current country of residence.
All the beneficiaries of employment permits should be at least 22 years old and is valid for as long as two years, which could also be extended. If as an employee of a Saudi Arabian company, you have an accompanying family member or members, they must be included in the processing of the residence permit.
Work visas are usually issued initially to foreign workers between one and three months after a formal work permit is required. Residence permits are only given out after a work permit has already been granted. The application of such permits for an employee and his dependents is the sole responsibility of the employer.