Welcome to the Emigration Destination Guide for emigrating to Philippines here at emigrate.co.uk.
Emigrating to the Philippines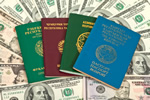 If you wish to stay in the Philippines without renouncing your citizenship, then you can apply for immigrant status in the country. The Philippines allow a foreign national to acquire immigrant status if his or her home country also allows Filipinos to become immigrants in that country. The quota immigrant visas that the Philippines issue...
Latest Philippines Emigration News: