Emigrating to the Philippines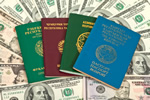 Emigrating to the Philippines
If you wish to stay in the Philippines without renouncing your citizenship, then you can apply for immigrant status in the country. The Philippines allow a foreign national to acquire immigrant status if his or her home country also allows Filipinos to become immigrants in that country.
The quota immigrant visas that the Philippines issue every year only total to fifty for every calendar year. This is the type of visa that a foreign national can apply for if he or she does not qualify for the non-quota immigrant visa. Those foreigners or children under 21 yeas of a Filipino citizen who will accompany or follow to join the citizen on his or her way back to the Philippines are eligible for a non-quota immigrant visa. Returning residents or returning former Philippine citizens can also apply for the non-quota immigrant visa.
If you intend to stay in the Philippines as a student, then you can apply for a student visa that you can secure from the Philippine embassy or consulate in the country of your origin. You have to take note that student visas will not include your dependents and that submission for applications for student visas for every first semester of a school year is from January to March while June to August is the period of submission for the second semester. Processing of student visa applications will take an estimated two months from the date of receipt of the application. An Alien Certificate of Registration and Certificate of Residence for Temporary Students should be secured by foreign national students upon arrival in the Philippines. They should also secure their study permits first before they enrol with the Commission on Higher Education.