Welcome to the Emigration Destination Guide for emigrating to Pakistan here at emigrate.co.uk.
Emigrating to Pakistan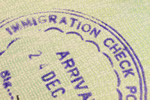 All foreigners who wish to gain entry to Pakistan should be a holder of a valid passport. Visitors to the country do not need a visa to get into Pakistan for a period of time if they belong to some specified countries. For those from Maldives, South Korea, Zambia, Iceland, Mauritius and Singapore, they could stay in Pakistan for three months...
Latest Pakistan Emigration News: