Emigrating to Pakistan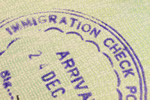 Emigrating to Pakistan
All foreigners who wish to gain entry to Pakistan should be a holder of a valid passport. Visitors to the country do not need a visa to get into Pakistan for a period of time if they belong to some specified countries. For those from Maldives, South Korea, Zambia, Iceland, Mauritius and Singapore, they could stay in Pakistan for three months without a visa while those from Western Samoa, Hong Kong and Nepal could stay for only a month. Those coming from Tonga, Tobago and Trinidad can stay for an unlimited period of time.
Landing permits or transit visas that are good for thirty days will be supplied at airports and other entry points by the Pakistan Immigration for free. But, this is only for genuine tourists who possess return air tickets and a sufficient amount of foreign currency as well as having satisfied queries to being bona fide visitors.
If you want to become a citizen of Pakistan, you have to be aware that there are many categories of persons that are qualified to be granted citizenship. These are the old parents of Pakistani nationals who are in India; Commonwealth citizens who transfer Rs 5 million worth of foreign currency into the country; nationals from other countries other than the Commonwealth who have lived in Pakistan for a period of five years; foreign women who are married to nationals of Pakistan; and, dependent children under 21 years of age of Pakistani women who have been married to foreigners. Children who were born to a Pakistani mother and foreign father after April 14, 2000 are treated as Pakistani citizens automatically.