Welcome to the Emigration Destination Guide for emigrating to Malawi here at emigrate.co.uk.
Emigrating to Malawi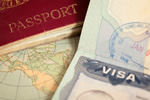 If you plan to go to Malawi, then you should know that the primary thing you need is a valid passport. However, your passport should have at least six months validity from the date of your intended departure. If your passport is near its expiry date, then you should have it renewed or you should get a new one before visiting Malawi.  As...
Latest Malawi Emigration News: