Welcome to the Emigration Destination Guide for emigrating to Israel here at emigrate.co.uk.
Emigrating to Israel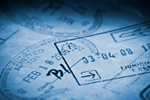 A passport that is valid for at least 6 months and a return ticket to your point of origin are the primary requirements in visiting Israel even if you are from a country that does not need a visa for entry into the country. Those who are holding passports with less than 6 moths of validity can be refused entry. Foreign nationals of certain...
Latest Israel Emigration News: