Welcome to the Emigration Destination Guide for emigrating to Costa Rica here at emigrate.co.uk.
Emigrating to Costa Rica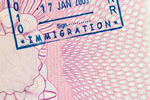 If you are planning to migrate to Costa Rica, there are requirements and documentations that you must accomplish in order that you can start on your application for permanent residency. Aside from filling up an application form for the residency, you will also need to attach your birth certificate and provide 4 recent photos. You must also...
Latest Costa Rica Emigration News: