Welcome to the Emigration Destination Guide for emigrating to Bahamas here at emigrate.co.uk.
Emigrating to Bahamas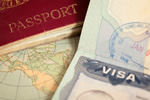 While Bahamas may welcome a lot of tourists every year, they are quite nationalistic in their ways when it comes to immigration policies. This makes it quite difficult if you want to work in the country. However, the Bahamian government is open to those who want to become Bahamian citizens and will give their applications much...
Latest Bahamas Emigration News: