Emigrating to Bahamas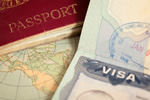 Emigrating to Bahamas
While Bahamas may welcome a lot of tourists every year, they are quite nationalistic in their ways when it comes to immigration policies. This makes it quite difficult if you want to work in the country.
However, the Bahamian government is open to those who want to become Bahamian citizens and will give their applications much consideration. With this in mind, it can be said that work permits and permanent residency in Bahamas are granted only if the applicant complies with the government policies of the country as well as its immigration laws.
The basic rule in Bahamas is that no foreign national can be offered employment if there is a Bahamian that is qualified for the same position. Any job on the island that does not require a high level of education like factory work or bartending should not be given to foreigners.
So, if you really want to work in Bahamas or if you have already found a job there, you have to know that your employer has to place a bond of $250 to $7,500 to help you get a work permit. This bond is for your repatriation and your dependents, as well as any public charges that you might incur during your stay in the country.
If you are a traveling salesman who plans to sell your products in Bahamas, then you must get a work permit from the Department of Immigration. Aside from a permit, you should also get a license from the local Licensing Authority.