US Citizenship And Green Cards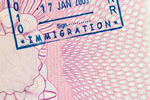 US Citizenship And Green Cards
Getting a US Green Card is the Holy Grail for many people around the world hoping to move permanently to America and start a new life. The steps to getting a green card vary depending on the category of immigrant visa and whether you live in or out of the country.
The three main ways to get a green card are through your family, your employer or as a refugee or asylum seeker. Possessing a green card means you are a legal permanent resident of the United States and can live and work there as long as you want. The United States Citizenship and Immigration Services (USCIS) is the government agency that handles all the applications and processes involved with immigrant visas. Their website is a wealth of information: http://www.uscis.gov/.
To begin the process of applying for US citizenship, a person must first submit an immigrant petition known as form I-130. A foreigner married to an American citizen will have a fairly straightforward path to a green card by using the IR-class visa. Once approved, all direct family members can eventually move to the US and receive green cards as well.
If you are attempting to get a green card through employment, there are several ways this can be accomplished. The EB-class of visas is designed for professionals who possess extraordinary skills that are deemed beneficial to American society. This includes foreign nationals with exceptional skills in science, art, education, business and even athletics as well as professors and researchers who are well-known in their respective fields and have taught at the tertiary level for at least three years.
Once you have had a green card for five years you can begin the quest to become a full US citizen. This means you can vote in government elections and enjoy other benefits unique to Americans. There are a few requirements in the naturalisation process, but none of them are particularly daunting if you are serious about becoming a US citizen.
You must be able to read, write and speak English at a near-fluent level and pass a test on US history and governance. You also need to have maintained residency in the US for at least 30 months within that five year period prior to applying for naturalisation. Once you apply to become a US citizen you cannot move out of the country until the process is finalised. The USCIS website offers some excellent guidelines to getting started on this path.