Privileges For Different Nationalities To Enter America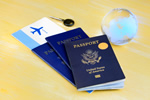 Privileges For Different Nationalities To Enter America
As in most countries around the world, the ease of entering the United States depends, in part, on your own country of origin. Like all friendships, the US has special relationships with some nations and cold relationships with others. America makes it much easier for its friends to get in than its enemies, but thankfully most of the world's nations are friends of Uncle Sam.
If your passport is from one of the 36 nations involved in the US Visa Waiver Program (VWP) you can enter the country without a visa and stay up to 90 days. This is equivalent to getting the B1/B2 class of non-immigrant visa but you don't have to apply for it. The list of 36 countries, which are mainly from Europe, can be seen here: http://travel.state.gov/visa/temp/without/without_1990.html.
The nations that make this list meet various security requirements from the US, particularly in terms of counterterrorism efforts and cooperation, law enforcement and border controls. The Electronic System for Travel Authorization (ESTA) is a quick online method of getting preapproved so that when you arrive in America the immigration database already has you recorded as eligible for the VWP. This website can be accessed here: http://www.cbp.gov/xp/cgov/travel/id_visa/esta/.
A national of a VWP country will have to apply for a visa if they want to stay more than 90 days in the US or think they might want to change their visa status once inside the US. If your passport does not have an electronic passport chip integrated into it, you will need to apply for your visa ahead of time. If your passport is not machine-readable (MRP) you might need to apply for a B1/B2 visa in advance.
Of course, if you have a criminal record or some other background issue then you probably won't be approved for the ESTA online process. Then you will have to apply in person. The same holds true if you overstayed a previous US visa, or have in some way violated the arrangement of a previous visa, you will need to apply in person.
Citizens of Canada, Mexico and Bermuda are not part of the VWP but can enter the US with just their passport or driving license. In general, any citizen of the UK, EU, Australia, New Zealand, Japan or South Korea can get their visas approved without much difficulty because of the good government relations between America and these countries. This is where the reciprocity comes into play. If your country makes it hard for an American citizen to enter or charges a fee for their visa, America will do likewise to your citizens who want to come to the US. Tit for tat, if you will. Reciprocity fees can be checked here: http://travel.state.gov/visa/fees/fees_3272.html.