Points Systems And Applications To Enter America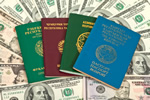 Points Systems And Applications To Enter America
Although in 2007 the US considered adopting the point-based systems for immigration that was pioneered by Canada and since adopted by the UK, Australia and New Zealand it has yet to implement the program. The point system is designed to attract the right kind of emigrants needed to fill specialty employment fields in the country and help the economy grow.
Factors that are considered include education, occupation, language proficiency, age and work experience. Applicants who fulfill more of the parameters gain more points on their application and are thus more likely to be offered an immigrant visa into the country. For now, however, America still uses the H-1B visa to determine if a person is sufficiently skilled to be granted long-term entry into the country.
The H-1B visa is one of the best non-immigrant visas available, as it allows qualified foreigners to quickly and easily enter the US to work for an American company. The American employer must petition immigration authorities (USCIS) on the applicant's behalf and prove the person is sufficiently qualified and experienced to perform the job that will be offered. Certain employment sectors like engineering and IT are more preferred at this point in time, but any professional is allowed to apply.
In order to qualify for an H-1B visa, the applicant must possess a bachelor's degree or higher from an accredited university or hold a license in their specialty like medicine. For some fields of employment, a combination of training, work experience and skills can be accepted in lieu of a degree. It is always up to the US immigration official reviewing the application whether to grant the visa or not.
The H-1B visa will be granted for an initial period of three years, but it can be extended up to three additional years if the employer can prove they need the worker for additional time and the applicant can ensure the government that he or she will leave the US at the end of the extension.
For tourism or business travel, most travelers from developed countries can use the Visa Waiver Program (VWP) to enter America without a visa. If you are a citizen of one of the 36 nations on the list you must apply ahead of time for approval using the online Electronic System for Travel Authorization (ESTA).
The ESTA must be completed at least 72 hours before arrival in the US but once approved it remains valid for two years or until the passport expires. The traveler might also need to show proof of onward travel and sufficient funds to cover their visit in the US. The system has greatly reduced the time required to get a basic B1/B2 visa to visit the US for a short time. Visitors will be given 90 days to stay in the US.