Property Agents In America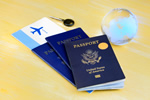 Property Agents In America
In America it's common to use a property agent, or real estate broker, as they're also known, to help clients find and handle transactions related to renting or buying homes and land. It's also possible to manage the purchase of a piece of property by yourself by dealing directly with the owner.
Property agents in America typically work as part of a team for a real estate company. All official real estate brokers must be licensed to legally sell real estate in America, so there is rarely a problem with untrustworthy agents. There are a number of major real estate firms that have offices all across the country such as RE/MAX and Century 21.
The advantage of working with a property agent in America is that they provide convenient access to many different kinds of properties that suit a client's price range and preferences. They act as tour guides, showing homes and land for the owners to prospective buyers. Then they handle all the paperwork to complete the sales transaction. The buyer simply has to choose the home and arrange the financing.
Of course, the real estate agent gets paid a commission on the sale, usually between three and five percent. This fee comes out of the sellers profits, so it doesn't really affect the buyer. It is common in America to split certain transaction fees like the title transfer between the owner and buyer.
There are no contractual obligations to use a property agent in America. There are many companies to choose from in every town, from large national firms to independent offices that serve a single compact area. There are sometimes advantages to using a small town local real estate company, as the agents are often residents of the area themselves. They usually know the properties for sale personally, along with the owners. This can often create a more welcoming, friendly atmosphere to the whole home purchase process.
Other people prefer the star power of the big chain real estate companies. Perhaps the agents working for these companies are better trained in the technicalities of real estate transactions, but the actual art of selling a home is always down to individual personalities.
For people looking for million dollar properties, it's best to work with one of the exclusive luxury brokers. Any town with expensive real estate will have one or two firms specialising only in luxury properties, both land and homes. These brokers are better trained at dealing with wealthy owners and the logistics of large sum purchases.