Moving To America - International Removals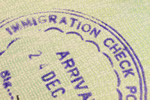 Moving To America - International Removals
One of the facets of moving to a new country that stresses people the most is packing and shipping all your belongings. There is no easy way to do this unless you can afford to pay a moving firm to handle every step in the process, from packing to unpacking. But either way you will need to hire an international shipping and removal company to handle the logistics of transporting your goods to your new home.
There are countless companies that provide this service to the United States so it's best to do some research online and find a company that appears to have a solid reputation and the support to get the job done right. Local expat forums online and even contacts that have already made the move to America can help immensely with this difficult task.
Logistics firms arrange container shipping from one country to another, usually by sea if there is a large amount of items or by air if it's just clothing and smaller personal effects. International shipping companies are usually connected to a local moving company that will arrange the transport of your boxes from your house to the logistics warehouse.
Using a single international company is the best way to go even if it costs more, because you will only have to deal with one entity throughout the whole process. The moving firm should handle everything from packing services to documentation and customs clearance at the port in America. There are many shipping options available, from a full 40- or 20-foot container to shared space within a container.
The best shipping companies will deliver the contents of the container right to your door in America, handling the many different modes of transport along the way. It's not an easy or simple task so expect to pay a premium for this type of all-inclusive service. Keeping detailed lists of everything that is shipped is essential for both US customs and insurance purposes.
It is always worth spending a little more on shipping insurance in the case of breakage or water damage during transit. Once your shipment lands in the US, a customs agent will contact you concerning customs clearance and the next phase of transport. Again, a good moving company will handle all of this for you.
Emigrants from most countries are exempt from excise taxes and import duties for household belongings as long as everything is used and not brand new. Some items may be prohibited from import into the US, so it's best to check with your shipping company if you aren't sure. A firm like Global Relocations, based in the UK, can give you a good idea about the paperwork and process involved with clearing US customs: http://www.globalrelocations.co.uk.