Getting On Your Feet In America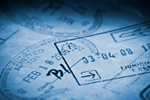 Getting On Your Feet In America
There are always loads of expenses when you move house, but relocating to another country involves even more details and a lot more money. The most expensive part of the process will be shipping your belongings to the United States, so budget at least several thousands dollars for this undertaking.
Once you have arrived in America, the first thing you need is a place to live. Hotels in America are very expensive but most of the larger cities have long-stay types of hotels that charge by the week or month. This is the best way to go while you look around for a long-term place to live.
Finding a home or apartment to rent isn't difficult but it will require a fair bit of cash to get started. Whichever you prefer to rent, the process is basically the same. You can go out and pound the pavement to find a property with a for-rent sign on it or you can enlist the services of a property management firm. These companies act as middlemen between landlords and renters. They are free for renters and can save you loads of time and energy.
Any property you want to rent will require a lease. If you have to submit a credit check to the owner before being approved, that will cost between US$20 and US$30. The deposit on the property is typically equivalent to two months rent. This money will be held by the landlord to cover any damage you cause, but should be returned in full at the end of the lease. You also need the first month's rent to move in.
If you need a phone, cable TV or internet these services are easily set up. Often they are all bundled together as a package, costing around US$100 a month. Mobile phone service is separate, and while not expensive to set up will require a long-term commitment to the service provider.
A month after you move in the first utilities bills will arrive, usually for water, electric and gas. They are rarely included in the rent so you have to budget for this until your paychecks start coming in. If you have a car, you must register it with the local Department of Transportation. This involves paying to register it, an emissions check and new license plates. You also need to get a driving license in the state where you live, another small fee.