House Hunting In America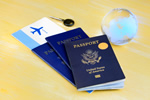 House Hunting In America
Whether you plan to rent or buy a home in America, there are many resources available to make the search for that perfect property easier. There has never been a better time to try and buy a home or apartment in the US due to the housing crash in 2008 that dropped the prices on property right across the board as much as 30 per cent.
But most people start out by renting a home until they can establish a local work history and save enough for the down payment on a mortgage. America has a thriving rental property market with plenty of local and national property rental agencies that serve as middlemen between landlord and renter.
If you already know the city you want to move to, simply go online and search for rental property management firms that operate in that location. Even the smallest towns often have one office that keeps a list of rental properties available and can help you search and arrange the lease.
There are also national property rental websites like rentals.com and frbo.com that let property owners post their homes and apartments online all over the country. This is a good source of information if you aren't sure where you want to live or want to get an idea of the average rental prices in a specific city. Craigslist is another excellent source of both rentals and homes for sale by owners.
When you are ready to buy a house, there are even more real estate resources available to help you find and buy a property. Big national firms like RE/MAX and Century 21 have offices all over the country and a solid reputation behind decades of sales. There is really no other way to buy a home in the US unless you know the owner personally and can arrange the transfer yourself.
Real estate companies and their agents make their living by showing homes and apartments to prospective buyers and handling all the paperwork required to transfer the property. Besides the large national firms there are thousands of local companies that focus on a single town or area. Sometimes, these local outfits are better to work with if you are looking in a small town because the agents tend to know the area well and often know the owners personally.
In this age of internet access, it is increasingly easy to be your own real estate agent and house hunt by yourself. Websites like forsalebyowner.com allow owners to post their properties for sale anywhere in the US and make it easy for you to browse the current market in any town. The only hard part of foregoing a real estate agent's help is that you will have to manage all the paperwork yourself.