Proficiency Tests In America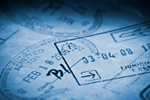 Proficiency Tests In America
Being able to communicate effectively in English is an essential component to success as an emigrant. Reaching native fluency in any language can take years but it is well worth the time and effort to better assimilate into the society. In addition, those who wish to apply for green cards and eventually become naturalised US citizens will have to pass an English proficiency test.
English language schools are a good place to begin improving your English skills but eventually you will need to move up to a course that focuses exclusively on the grammar of the language and not just conversation skills. These are text-based courses that prepare you to pass the major proficiency exams for things like entry into American universities, employment or naturalisation.
There are five main English language proficiency tests in America. Each college or government agency has its own preferred test format, so it's wise to research the exact type of proficiency exam used for a specific agency. IELTS (International English Language Testing System) is one of the leading exams in the world. It is based on British studies, but is still used at some institutions in America.
IELTS offers two test forms. The Academic Version prepares students for entrance into university or those seeking employment in professional areas like medicine and law. The General Training Version is best for emigration purposes and general language improvement for work and socialising.
TOEIC (Test of English for International Communication) is another popular global exam format. This exam is geared towards evaluating the everyday English abilities of people for work or personal use. It is divided into a listening and reading test and a speaking and writing test.
TOEFL (Test of English as a Foreign Language) is arguably the most popular global exam format used for entrance into schools around the world. This is the standard English language proficiency exam used by most American universities to gain entry if you are not a native speaker.
This test is also used extensively by US government agencies for licensing and other official purposes. A TOEFL score is only valid for two years after taking the test, but courses preparing student for the TOEFL can be found in all major US cities and universities.
Reading, listening, speaking and writing are the four components of the TOEFL exam. Since 2005, students have been able to take an internet-based version of the exam, which is gradually replacing the original paper-based and computer-based tests. For anyone wanting to get involved in official government business in America, a passing TOEFL score is essential.