American Cuisine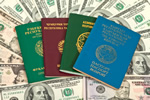 American Cuisine
From such an ethnically diverse country as America, it only seems natural that its cuisine would be equally unique. But instead of forging new culinary genres, American chefs have taken an easier road by fusing different cuisines together to create dishes that blend the best elements from around the world in ways that are both surprising and exciting.
One example of this is the west coast phenomenon known as Pan-Asian cuisine, a mix of Asian cooking techniques with the amazing food resources of California and Oregon. Think of sake and miso pan-seared salmon from the Pacific Northwest, and you get the idea.
Traditionally, American cuisine simply adopted elements and dishes from England and Europe since all original Americans were immigrants. Where certain groups of immigrants settled, their traditions of cooking followed with them. Thus, in New Orleans there's a rich culinary tradition of French Creole cooking, while up north in Milwaukee you can find some of the best bratwurst in the country.
The ethnic diversity of the US is what makes eating here such a delight. In almost every town of note, it's possible to find restaurants serving Chinese, Thai, Mexican or Italian cuisine often being cooked by second-generation citizens who learned all the cooking secrets from their grandmother. In the larger cities like New York and San Francisco you start to find even more obscure cuisine from places like Morocco, Indonesia or Lebanon.
Unlike many other countries where you have a local Chinese person trying to open an Italian restaurant simply to cater to a dining trend, most ethnic restaurants in the US are owned and operated by people who know the cuisine well.
Of course, Americans have also contributed a few things to global cuisine, though many foodies would debate their merits. This is the home of the modern hamburger as we know it, along with the myriad fast food restaurants that serve this kind of cheap quick food. While it's true that Belgians invented the French fry, it was the Americans who took it to the next level.
This adaption of classic foods can be seen in many places, from the deep dish pizza of Chicago to the Tex-Mex style of Texas and the Southwest. Head to Santa Fe, New Mexico and the local fare revolves around delicious roasted chili peppers. In Nebraska it's all about the legendary corn-fed beef. One thing for sure about eating in the US is that you'll never feel constrained by a single style of cuisine. Even the smallest towns have at least a couple of international options to work with.