Emigrating to Zambia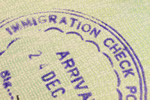 Emigrating to Zambia
If you are going to migrate to Zambia, you can do so by getting an employment permit. For as long as the permit is valid, you are allowed to stay in the country, and have the freedom to enter and re-enter as you wish. Other than investors, missionaries and those who are employed by the government, all foreigners who are planning to work in Zambia need to have their employment permits secured before they arrive in the country.
To apply for an employment permit, you need to have the necessary documents, which include a completed application form, two recent photos and photocopies of your passport. You will also have to submit documents that are relevant to your employment, such as certified copies of professional and educational certificates, and a letter of offer from your employer. If you are working for the private sector, you have to pay an issuance fee of K2,000,000. For government employees, the fee is K1,000,000. Additional fees will be charged if you have dependents, or if you are changing your occupation or employer.
If you are applying for a self-employment permit, you will have to produce a different set of documents. Other than the basic documents such as the application form and copies of your passport, you are required to show documents that pertain to your investment. These include a certificate of incorporation or business registration, a certificate of investment, the names of directors in your company and a statement of your personal investment. Investors also have to submit a letter addressed to the Chief Immigration Officer.